---
#EUIA20 Best Paper Award
---
Similar to the previous edition, the conference partners in cooperation with the Journal of European Integration, will organise the #EUIA20 Best Paper Award. A joint review panel composed of members of our steering committee and the editorial advisory board of the Journal of European Integration will select the three best papers of #EUIA20 conference. These papers will subsequently be published in a themed EUIA section in the Journal of European Integration.
—————————–
The following three papers have been selected for the EUIA2018 Best Paper Award:
Katja Biedenkopf

: EU Delegations in European Union Climate Diplomacy

Alasdair Young

: Supplying Compliance? Explaining the EU's Response to Adverse WTO Rulings

Anna Herranz-Surrallés

: Paradoxes of parliamentarization in European security and defence: When politicization and integration undercut parliamentary capital
The above papers were published in a themed EUIA section in the first issue of 2019 of the Journal of European Integration (41/1).
---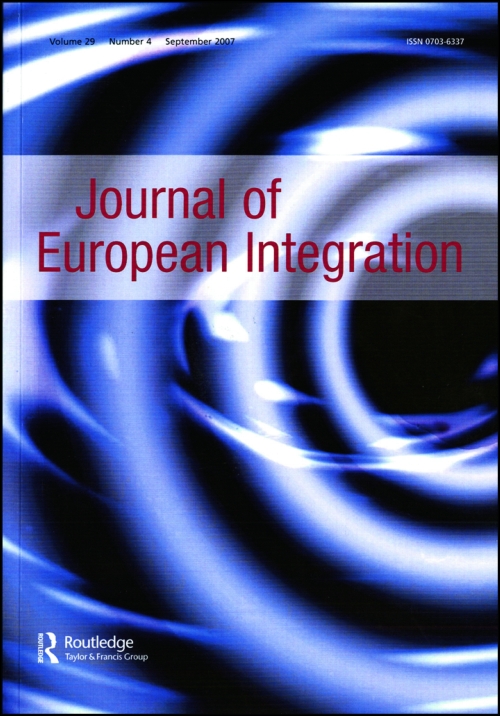 The JEI Annual Lecture
The Journal of European Integration marked its 40th anniversary in 2018. On this occasion, the journal was honoured that Dr Nathalie Tocci gave the first JEI Annual Lecture in the context of the EUIA2018 conference. Nathalie Tocci's talk, entitled "Academia and Practice in European foreign policy: Opportunities for mutual learning?", was held on 16 May 2018 and also constituted the opening keynote address of the conference.
The speaker of the JEI Annual Lecture for #EUIA20 will be announced soon.
About the Journal
Established in 1978, the Journal of European Integration is a leading journal that publishes scholarly work from a variety of disciplinary or multidisciplinary perspectives, ranging from political science and political economy to public administration, law, history, sociology and cultural studies, on all aspects of the European integration process. European integration is broadly understood as pan-European process rather than merely the European Union, though the majority of our contributions might be devoted to the latter. We also publish comparative studies of federalism, regional integration and other forms of multilateral cooperation, as well as articles dealing with the European Union's external relations and its global role, be it concerning economic, diplomatic or security relations. The main purpose of the Journal of European Integration is to serve a broad readership which implies that articles should be of a wider relevance rather than of a highly technical or narrow nature. The emphasis should be on scholarly work and should provide, in particular, analysis rather than description or assertion.